Action Signs recently completed a slew of ADA signs for the City of Fort Collins offices. We completely redid their hallway and elevator signs, giving about 60 signs a fresh and professional look. ADA signs are typically made of plastic and curved painted metal, which makes them difficult for a novice sign company.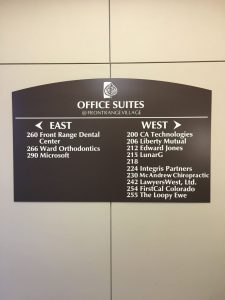 The hardest part about ADA signs is the strict restrictions. In fact, the penalty for your first ADA violation is $75,000 and $150,000 after that! Luckily, the experts at Action Signs know the guidelines well and would never compromise compliance for design. If you're office space is considering new ADA signs, be sure to review these guidelines.
FONT: Did you know that the tactile on ADA signs should be San Serif? There are actually restrictions on everything from case to character height. Still, we have found creative ways to make ADA signs decorative through the use of color, shape, materials and more. Check out some of the font guidelines:
2.2 Case. Characters shall be uppercase.
2.3 Style. Characters shall be sans serif. Characters shall not be italic, oblique, script, highly decorative, or of other unusual forms.
2.4 Character Proportions. Characters shall be selected from fonts where the width of the uppercase letter "O" is 55 percent minimum and 110 percent maximum of the height of the uppercase letter "I".
2.5 Character Height. Character height measured vertically from the baseline of the character shall be 5/8 inch (16 mm) minimum and 2 inches (51 mm) maximum based on the height of the uppercase letter "I".
KERNING: Not a word often used in everyday speech but kerning is the need for a minimum amount of 1/8" between the two closest points of any tactile characters (braille). The tricky thing here is that some character pairs are naturally closer than others. Additionally, this particular kerning size makes words long and causes issues with the size of the sign. Frustrating but necessary.
CHARACTER SIZE: Too big or too small? That is the question! The minimum character height is 5/8" and the maximum is 2". Luckily, this is pretty straightforward and does not leave too much room for interpretation. However like every rule, there are exceptions.
BRAILLE: You may not know this but there are actually several different ways to manufacture Braille signs. ADA signs have restrictions when it comes to the structure of the dot, the cell spacing and placement.
PLACEMENT: Yep, there are even guidelines when it comes to mounting the ADA sign. The mounting height of the sign is based on the height of the tactile characters above the finished floor. This means that flooring needs to be taken into consideration when determining the placement of the signs.
Again, while there are a number of restrictions when it comes to ADA signs, it is our job to make sure your signs comply. Give us a call to learn more about ADA signs or to see more examples of our work!