ARTWORK UPLOAD & GUIDELINES
UPLOAD...
...SEE GUIDELINES BELOW
Design Considerations
With an experienced in-house team of creatives, we have the knowledge and inspiration to bring your custom designs to life!
Design fees are billed at our hourly rate. We make sure to include design costs in our initial quotes. This fee will vary depending on the complexity of the project. If you have print ready files available, there will be no creative design fees but there may still be a small charge for file set up. If anything needs to be done to your file(s), you will be notified before proceeding and production will pause until necessary changes are made and finalized. If Action Signs needs to make changes to your design or file, a per-hour design charge will be applied.
Submitting Artwork
File Formats
Acceptable Vector Formats:
Adobe Illustrator for vector artwork (.ai, .eps, pdf)
Acceptable Raster Formats (minimum 150dpi at 100%):
Adobe Photoshop (.psd, .tif, .jpg, .bmp, .pdf, .eps)
AutoCAD
Used to reference building specifications for large-scale architectural projects
Unacceptable File Formats:
Microsoft Word
Microsoft PowerPoint
Corel Draw
Paint
.GIF
.PNG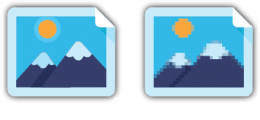 Fonts
We recommend that you convert all fonts to paths or outlines before submitting any artwork. Fonts not converted will automatically default to a basic font in our library, thus slowing down the production flow and could result in a design charge. Providing us with your font files helps to ensure your artwork is produced exactly as you envisioned and designed it.
Logos and Graphics
We prefer all logos and artwork to be in vector format. If vector format is not available, we can use raster images as long as they are at full size of the finished product. Please visit the Graphic Design Forum for information on vector versus raster images. When designing, remember that images found on the internet typically do not translate well on anything larger than copy paper.
Eco Solvents Inks
For outdoor signs, your digitally-printed graphics need to be waterproof and weather resistant — that's where solvent inks come into play. Eco solvent ink, used at Action Signs, is a mild form of a carrier solvent combined with pigment and either a glue or resin. These binding agents help the superfine powdered pigments adhere to the nonabsorbent printable media, typically used for outdoor signage. In the large format printing industry eco-solvent inks and digital print media go hand in hand. Outdoor signage has escalated to a full blown color gamut of superior, high quality, durable sign products.
Vehicle Wraps & Large Format Digital Printing
Action Signs only uses the top brands of wrap vinyls on the market today; they are time tested and backed by the best warranties available. We print our vinyl vehicle wraps on large-format eco-solvent CMYK inkjet printers. Our vehicle wraps are printed on high-quality cast graphic vinyl film, with a cast UV guarded overlaminate. We typically utilize 3M, Avery and Oracal to ensure the highest quality and greatest return on investment for our clients.
Custom Banners & Signage
We print all of our custom banners and signs on large format eco-solvent CMYK inkjet printers. We typically stock 38" rolls to 54" rolls of various weighted banner materials and vinyls. This means that we can print various sizes with as little amount of waste possible. We print our banners on 13 and 16oz. material, ensure that our products will hold up to the harshest outdoor conditions. Our signs are printed on digital printing vinyl material and laminated with a UV guarded over-laminate.